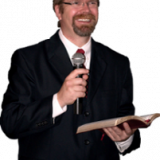 why good enough is not good enough
I grew up in a medium sized town in the Netherlands, called Vlaardingen.
My parents were Salvationist (member of the church of the Salvation Army) and i followed in their footsteps.
Within the Salvation Army Corps, as the churches are called, the hymns and choir are accompanied by a brass band.
As the Salvation Army in the past, and still in some places goes and marches down the street to have an open air church service, this brass band plays an integral part in its ministry.
It makes a lot of sense to have a band like that, as it is impossible to take a church organ apart and carry it along with you to that open air meeting.