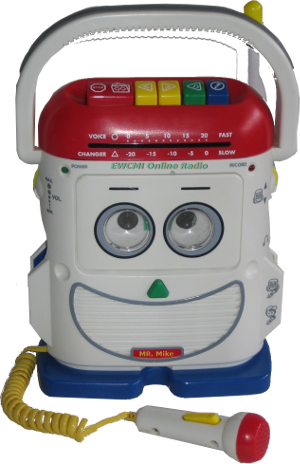 Default Broadcaster
Mr. Mike
Our Default Broadcaster is the Rivendell Radio Automation system.
Rivendell
is a complete radio broadcast automation solution, with facilities for the acquisition, management, scheduling and playout of audio content. It has all of the features one would expect in a modern, fully-fledged radio automation system, including support for both PCM and MPEG audio encoding, full voicetracking and log customization as well as support for a wide variety of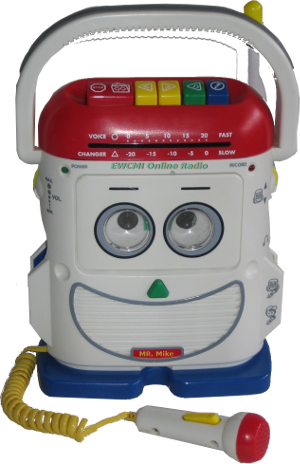 third party software and hardware. As a robust, functionally complete digital audio system for broadcast radio applications, Rivendell uses industry standard components like the GNU/Linux Operating System, the AudioScience HPI Driver Architecture and the MySQL Database Engine. Rivendell is available under the GNU Public License.
Mr. Mike was one of those toys that children could not get enough off, and as parents we thought it was wonderfull too. (especially when the batteries would be empty. )
now Mr. Mike represents the Robot Rivendell system which creates and presents those wonderful playlists and categories that we listen to each day. With the use of mathematical formulas each day is different and a wide variety of styles and music is presented with recognizable blocks for those standard programming points during the day as through the bible in a year, Fred Passmore's Sheeps Laugh and the Old time radio shows.