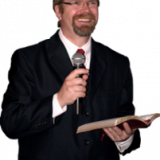 Aviad Cohen Promoted to Glory
I didn't know, but Aviad Cohen, was promoted to Glory (passed away to be with Yeshua) last october 2017 at the age of 42.
Aviad Cohen was one of those musicians I just really wanted to meet, interview, encourage and show how many of you our listeners of Eagle Wings Charismatic Ministries Online Radio has and still is encouraging with his music and testimony.
Aviad started his music as 50 Shekel a Judaic musician as a healthy alternative to the ??""music""?? of 50cents.
He had a very open conversion to Messiah Yeshua and continued under the name Aviad Cohen from which we have many songs included.
Seen as a betrayer of the faith by the orthodoxy and with reluctand support from the Messianic Jewish community he did not have it easy and strugled with his health.