The message of "One New Man"
Unfortunately, the message of The One New Man is often misunderstood.
We sometimes hear cries of warning that this message is attempting to
"put people under the law," or "return them to Judaism."
However, these fears are not based on sound information.
The One New Man message does not attempt to shackle us to a set of rules or regulations, but rather it diligently seeks to broaden the liberating knowledge of the roots of our Christian faith.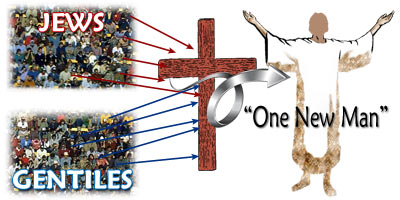 I personally also do speak of this as in the back to our roots movement. How do we know the direction in which we are going when we do not know where we are coming from.
It was during the Councils of Elvira and Nicaea (held during the first quarter of the fourth century), when many rules and regulations were put in place to separate the Church from the Jewish roots of Her faith.
In fact, many religious leaders tried to erase the memory of any connection between a Jewish Jesus and the faith of Christianity.
Lots of outwards signs of belonging have disappeared from the Christian landscape, as the tallit, the kippot (yarmulke) and the candles of remembrance and observance.
These decisions were certainly not God's highest and best for either Israel, or for the Church.
They simply resulted in separating us from the blessings of our heritage.
When we understand this separation was never intended as God's best or His desire for us, we are empowered to be who we are called to be with a greater understanding of our Father, and ultimately of ourselves.
We believe that the second covenant brings a completion to the first covenant—it does not negate it.
When Believers begin to understand their beginning, as well as their end, they will then begin to walk in much greater fullness.
In Romans 11:12 Paul spoke of this fullness when he said, "But if their transgression means riches for the world, and their loss means riches for the Gentiles, how much greater riches will their fullness bring!"
The message of The One New Man is a message of fullness, and of unity between Jews and Gentiles—our heritage past, and our inheritance present and future.
It is a message that empowers Believers to understand the roots of their faith by providing the teaching necessary to help bring activation of this covenant revelation.
Where we came from says a great deal about where we are going. The message of The One New Man ultimately brings the light of the past, into the present, thus illuminating the path into our future!